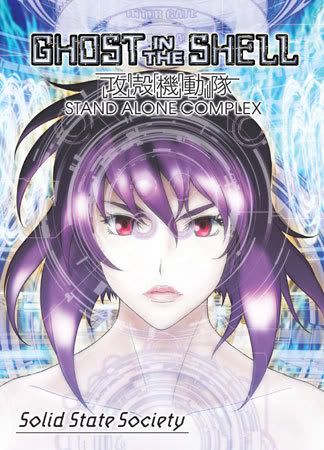 Ghost in the Shell (GITS) Stand Alone Complex (SAC): Solid State Society was released in 2006 and is the anime film based on the Stand Alone Complex series. It was directed by Kenji Kamiyama and produced by Production I.G.; the film had a huge production budget of 360 million yen or 3.2 million dollars. And for all of you GITS fans it was announced at the 2006 Anime Expo that this film will not be the last in the SAC series.
Solid State Society takes place 2 years after 2nd GIG in the year 2034 in the 2 years prior to 2034. The Major has resigned from Section 9, Togusa has stepped into the Major's role as field leader, and Section 9 has now expanded its team to 20 members. The film starts out with Section 9 investigating the mysterious suicides of 13 operatives of the former Siak Republic. Section 9 manages to get a lead from Ka Gael (one of the operatives) when he says the Puppeteer is coming before he kills himself. When Batou is sent to Ma Shaba's labs to intercept a suspect he runs into the Major who tells him that she is investigating on her own. Before the Major leaves she warns Batou to stay away from the Solid State Society. When Togusa discovers 16 kidnapped kids at Ma Shaba's Labs and investigates into these kidnappings further he is also warned to stay away from the Solid State Society. And towards the end we see the Major join forces with Section 9, again to kick some ass.
Ok, as I am a big fan of GITS I was over the moon when I saw this latest instalment and yes I did, and still do like it. But I thought as SAC it such a big thing in itself this movie could have been better and longer. It never really goes into any depth and the story line is a bit jumpy. Yes, this due to the fact that this is a movie and not a series but still I think it could have been better and I was left feeling a bit disappointed. You will probably like this film if you like GITS and I am sorry to say that if you have not seen any of the series then you may not get the movie because it is not a stand alone movie so it would probably be best if you watch the series first. Also it is my duty to inform you that yes, Hollywood is making a live action version of GITS (No I am not lying). I don't know if I will watch it in the cinema when it comes out but I will be watching it. Fingers crossed it doesn't totally suck because it could bring in new fans to the anime and fuel lots more investment into making more of the series.